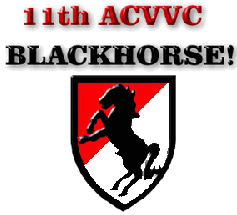 Chaplain's Corner
Chaplain Bill Karabinos
HHT 2/11 71-72
1st Qtr 2019
In the St. Nick of Time
"Just what I always wanted." My shout on Christmas morning when I opened a box that held two bottles of Corn Husker's Lotion. It came in the nick of time as the dry skin on my legs was itching incessantly. It didn't take me long to pull up my pant legs and rub in the lotion. Oh, what a relief. Made no difference if the family laughed at me … it was a great gift.
Many of us can smile and think of a similar gift that brought instant relief or a smile when it arrived. That was especially true for those packages that arrived in Vietnam at Christmas time. We cherished them and maybe even hid them from our track mates. So I couldn't help relate this Christmas gift/story to my family, and now to you.
Had Midnight Mass at our base camp in Phu Loi in a little cantonment chapel filled with sleepy, and in some cases, tipsy troopers. No full dress affair, lads came in faded jungle fatigues but with bared heads in respectful awe. Memorable and happy celebration. Then early Christmas morning a service at the Air Cav Troop area for our guys and the Chinook drivers of the 145th Combat Aviation Battalion. A short walk to the Pad for a flight to Fire Support Base Andrews to gather the gunners to sing and pray in the Mess Tent shortly after breakfast. They did hand me a cup of coffee to go as I left for another airlift to E Troop about a 10 to 15 minute flight away. The troopers there too had finished breakfast and were energized enough to sing our Christmas hymns with gusto. As soon as I could, I caught other hops to F and G Troops scattered in the plains east of Nui Ba Den. The "Black-Virgin Mountain" was ever present on the horizon in our MR III area of operations. After leaving the field troops, I was flown to Cu Chi for yet another Christmas worship service, by now in the late afternoon. Had to close the bar for a short time to use it as an altar, but the troops didn't mind, their elbows needed a break.
Got a jeep ride from there back to Phu Loi and headed for the Mess Hall … finally for something to eat. I was starving. You guessed it: it was closed. No one around. No Christmas dinner. Still hungry, I walked alone to the chapel and my little bunker/room. There, on my cot was a stack of Christmas cards and gifts ... Santa or the S-3 had been there while I was gone. God bless America!
One of the packages from my sister contained a small one pound Dansk Ham and a few cans of Heinz Baked Beans. Now I smiled; what more could I have wanted? Maybe a fire to heat the ham and warm the beans. God will provide, but in this case He (God) was an aggregate of field troopers and a stick of C-4.
Our Blackhorse troopers in the field had taught me how to heat rations by lighting a piece of highly explosive C-4 and placing it under a perforated used tin can. No matter how excessive the torture or intense the interrogation, I'll never reveal his name, except to say "one of the lads had given me a stick" that I carried in my Mass Kit: why, I had no idea. But there it was and so, keying open the ham can and, with my trusty P-38, opening the beans, I light the C-4 on my concrete floor and heated my ham and beans. Christmas dinner in the St. Nick of time. Thank you, Lord!
Yes, I really did pause to thank God for my abundance of joys on that Christmas day, forty-seven years ago. It only took a minute. And, He smiled back at me. I slept well that night. It was a good night, a memorable Christmas and not once did I hear the familiar shout of "Incoming."
By the time you read this, Troopers Frank Church, Mike Rafferty and President Emeritus Allen Hathaway of the 11th ACVVC Board of Directors and other Blackhorse Troopers, from the San Antonio area and even from Fort Irwin in California gathered in Texas to present our venerable Chaplain Emeritus, Larry Haworth with the 11th ACVVC Lifetime Achievement Award. Larry, among the Founding Fathers of our association has given his all for our Regimental veterans and I know, you all love him dearly. He is well deserving of the distinction and you'll be able to access the presentation ceremony either on Facebook, in the next issue of Thunder Run or at our reunion in Las Vegas. Larry continues to care for his wife Deana, continues to serve all of us as he prays for you daily. I think I once heard him encouraging a trooper with these words: "I spent a minute with God and hope you will too."
That's all we need do, spend a minute each day... and don't give me that excuse that the time you spent in Church on Sunday should carry over. Just a minute each day.