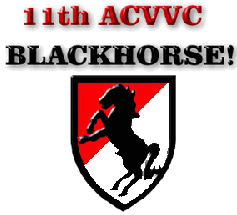 Chaplain's Corner
Chaplain Bill Karabinos
HHT 2/11 71-72
2nd Qtr 2019
The Glory is in the Quest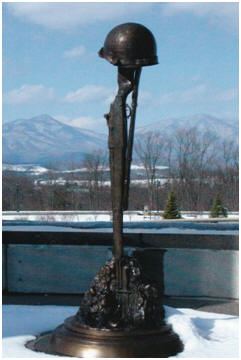 On the 6th of June, American patriots will celebrate the 75th anniversary of D-Day; the Normandy invasion that penetrated the impregnable North Atlantic Wall and served as a portent of our victory in Europe. It is hard to imagine that a 20 year old lad in 1944, who survived that invasion will be 95 years old on June 6, 2019. A very small percentage of those men will be around to celebrate that invasion and that victory this year. But of those who are still with us, and of those who hit the beaches of Normandy that day or landed by glider or floated to earth via parachute in the fields near Sainte Mere-Eglise, few believed it was a victory that day. For them war indeed was hell, and their quest was survival, their goal was victory.
On 19 March of this year, coming back from North Carolina through Central Virginia, I took my brother-in-law to see the D- Day National Memorial in Bedford, Virginia. Bedford is a small town just below the Peaks of Otter of the Blue Ridge Mountains that has a somber distinction. Joe and I took a back country road, a Virginia By-way that meandered along rocky ridges, across swollen streams to climb up one side of a mountain only to slide quickly down the other. Joe Rizzo (my brother-in-law) was driving and was a bit perturbed with his navigator (me). To his frequent question as to how much further and where is this place, I could only answer: "keep driving Joe, the glory is in the quest." When we got there and viewed the memorial and landscaped grounds, read the myriad plaques and heard the stories of the Bedford Boys, it really was a story of courageous young men, a community that nurtured them and, of a nation that was to glory in their triumph.
On the morning of 6 June 1944 there were 44 soldiers, sailors and airmen from the town and county of Bedford, Virginia massed off the shore of Normandy, bobbing in the English Channel. . Thirty-seven of these young men were assigned to Company A of the 116th Infantry Regiment, 29th Division. On that day 31 of them loaded into landing craft and were in the first wave to hit Omaha Beach. Five were blown from their landing craft, 20 were killed on the beach and four others were wounded in a matter of minutes. In comparison with its 1940 population, Bedford suffered the nation's severest per capita D-Day loss. From the small town of Bedford, Virginia of those who participated in the Normandy invasion, only two came home.
Vietnam veterans have and will continue, to celebrate the 50th anniversary of the Vietnam War. Some of us even have a lapel pin or coin to acknowledge our quest for victory or survival in that war. Like the city of Bedford, our token is but a reminder of a somber distinction. We found no glory in victory, but only glory in our quest.
Not too many days from now, we will be observing Memorial Day. We will be remembering our fallen, both those who died in "the Nam" and those who have left our side since. This year that observation will take place on the 27th of May and a significant number of troopers from the 11th Armored Cavalry Regiment will travel to Washington, DC to salute our honored dead and each other. We continue that glorious quest.
Most of those gathering will be the veterans of Vietnam and Cambodia who regularly gather on the National Mall a little north and east of the Lincoln Memorial. They will be accompanied by some of their family members, and are often joined by former Blackhorse Troopers who stalwartly stood in a thin line facing the might of the Soviet Union in the canyons of Fulda Gap and even by active duty soldiers who received their baptism of fire in the sand pits of Southwest Asia.
It is always a surprise as to who, and how many, show up early each Memorial Day morning in the shadow of "The Three Grunts." Beside our guys who come from as far away as California or from deep in Florida, or who venture an early morning 4 hour drive from a Central Pennsylvania farm, we are joined by family members of our KIA's and of our gallant survivors, former nurses - who with soft hands, warm hearts and beautiful smiles cared for us at the Blackhorse Base Camp hospital. We have even hosted a multi-decorated hero of the 11th Armored Cavalry of World War II who also held the posts of the United States Ambassador to Luxembourg and the Netherlands. More often than not, we also have at each of these gatherings a retired general or two, former colonels of the regiment and even a number of men who were to be named a "Colonel of the Regiment."
That happens - the gathering that is, again each Veterans Day and in recent years, on the birthday of the 11th Cavalry Regiment, when we formally and solemnly lay a wreath at the Tomb of the Unknown Soldier in Arlington National Cemetery. Few would believe, especially those familiar with obnoxious traffic in the Washington DC area, that so many would return year after year like on a pilgrim's quest just to be with their Blackhorse brothers and to pay homage to their fallen comrades.
And you do it also in other places around the country; at our annual reunion and when you present yourselves at the wake or funeral rite of a recently fallen Trooper. The pride and comfort you bring to the surviving family members is priceless. The joy and satisfaction you will know, or have felt deep in your gut, is eye-watering.
What is our Quest? In its pursuit, how do we find Glory?
Our quest? It is to seek out each other because we were proud to serve in a special unit; with competent, caring, loyal and trustworthy men. We didn't know at the time just how good we had it, or why it would be called – the Legendary Blackhorse Regiment. It took us some years and a lot of encouragement from the greeting of so many of our fellow warriors that we've met on the streets. It seems to never fail that a fellow Vietnam veteran or a family member of a warrior, spotting our red, white and black patch will stop and say thanks … or more likely, "you saved my derriere." It wasn't me, it was you and all the Blackhorse troopers who served in Vietnam from 1966 to 1972.
As an example: this month on the 2nd of March in Monument Valley, Arizona a Navajo Tour Guide saw the 11th Cav patch on my hat and greeted me - "Blackhorse." His uncle, who has passed, served with us in '67; on Sunday the 10th in church, a former Engineer officer and retired Army veteran, saw the lapel pin and stopped to tell me how his "Rome Plow" unit was chased and pinned down in 1967 by an NVA company, before two Blackhorse tracks arrived to blow them away. It happens every time I walk the bridge from Arlington Cemetery to the The Wall. Some former soldier wearing another unit's pin or patch will salute me and say "Thanks Blackhorse" you came to our rescue.
We have yet more quests to pursue and a final one to secure. I found a summation on my computer screen recently: "A doctor can save your life, a lawyer can defend your life, a soldier can give you a peaceful life, but only God can give you everlasting life." Amazing. Our Quest for Glory; never thought it was that simple.
Chaplain Blandin Karabinos (HHT 71-72)