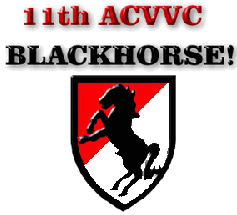 Chaplain's Corner
Chaplain Bill Karabinos
1st Qtr 2018
Go to the 11th ACVVC website, click on the subtitle; "Funeral Honor Guard – check it daily."
In your service training days there was a bulletin board that you checked daily. It detailed your schedule for the day; maybe you were listed for the motor pool or potato peeling or even guard duty.
You checked daily as to avoid getting your "butt chewed out" later in the day. It was a duty and you were bombarded in those days with "Duty, Honor, Country" lectures and obligations. Those obligations became routine and most of us can't even remember checking lists or bulletin boards or duty rosters.
I don't know how many of us take it serious enough to check our veterans' website, and the Funeral Honor Guard section. But in case you don't, you may still get an e-mail from Peter Walter about "A Trooper Down." Pete tries to keep us all informed as to the death of one of our own and asks those within a hundred mile radius to attend the wake or service and express to the widow or surviving children the respect and love that we members of the 11th Armored Cavalry Veterans of Vietnam and Cambodia have for each of us. We were together the, and we strive to be together again. In the field, we refused to leave a trooper behind. Now, as we the survivors of those dastardly days do, we should still show that respect – if we are able -- to those who have recently fallen.
I was overwhelmed at the reunion in Fort Benning, when I filled in for Chaplain Larry Haworth and conducted a Saturday afternoon Memorial Service. I expected maybe two to three hundred to attend and thought that reading the long list of those who passed on since the last reunion would meet with boredom and apathy. I wasn't prepared to see the largest room in the convention center packed with troopers and their family members, with surviving families of our departed troopers, and even some visitors who came by out of curiosity. No apathy, no boredom. Rapted attention, respect, unselfish love and a willingness to embarrass ourselves with a few tears. The Orlando "Hurricane" reunion went even a step further as you listened to the reading of over 600 hundred names of your brother troopers who have passed on to "Fiddlers Green" in the past year. Together then and together again. Wow!
Then after all those names, after all the reflection that we all did as we heard of one we had served with, the poem,"Bury Me with Soldiers" was read and the ball room floor was saturated with tears. I have been so impressed by your loyalty and brotherly love for the troopers you became friends with in the Nam, with troopers you served with but never really knew and for the other troopers who served at another time and in another place who you never knew. You are … words escape me or cannot describe who you are, so I'll settle on "Genuine" for now. You are genuine men, genuine soldiers, genuine patriots and I doubt that any of us could have a better friend than a fellow trooper of the 11th Armored Cavalry Regiment.
Back to the website. Just before Christmas a trooper died in Virginia. He was a lifetime member of the 11th ACVVC and a participant in the many Air Cav Troop reunions. His fellow troopers knew him as "Lily." He was John Liljegren, an Air Cav scout of 1970 and 1971. "Lily" was like many an 11th Cav trooper, proud of his service and of his inclusion in the Legendary Blackhorse Regiment. Even his coffin was emblazoned with Army and 11th Cav paraphernalia as was his bronze gravestone. The service was in Charlottesville and the burial was at a small church graveyard near Lovingston, about 30 miles south in the Shenandoah Mountains.
I arrived about 30 minutes before the service and was immediately greeted by another 11th Cav trooper Jim Angelini, a former Air Cav Trooper who served at the same time with "Lily" in Vietnam. Jim had driven all the way to Charlottesville, Virginia from Louisville, Kentucky (an 8 hour drive). Not only that, but he was also there the evening before for the wake and supplied a Troop Guidon and a Blackhorse crest in Red, White and Black made from fresh carnations. Jim had gotten to know John Liljegren well at our reunions and those of the Air Cav Troop. I thought that was an extraordinary effort, but my amazement was only beginning.
After a respectful and contemplative service during which the minister spoke highly of the love that "Lily" had for the 11th Cavalry Regiment, we proceeded to the graveyard in Lovingston where a military honor guard awaited us. Again I was touched by the demeanor, character, discipline and respect of the three young soldiers precisely dressed in what we used to call dress blues. They paid a special tribute to former Sergeant Angellini and myself and went out of their way to cross muddy fields and walk down gravel roads to shake our hands and honor us with expressions of pride and respect for our service in Vietnam. Trooper Jim Angellini was dressed in his duty summer uniform (of 1978 vintage) decorated with well deserved ribbons including a CIB, Purple Heart and Bronze Star. We received from those lads the same respect and honor, that many of us extended to the stalwart combat veterans of World War II.
The weather was blustery and growing windy and cold with showers in the air. A small tent had been erected for the family members , who were very grateful that we had come and especially grateful to Jim Angellini for his care, comforting words and hopeful encouragement. Before the service, the pastor asked if I wanted to say something, but I declined as I knew Jim Angellini wanted to read a poem for his buddy. Jim did recite the poem: one he personally composed in 1998 and he did so without a script, with heartfelt emotion and warm affection. Following the poem, the flag was folded with the greatest of reverence and Taps was flawlessly played by an active duty soldier. The flag was then presented to the widow and son of our fallen brother trooper.
Afterwords, I asked Jim, if we could have a copy of his poem for Thunder Run so that all of you could share in his thoughts and he agreed. The poem will follow.
Go back to the website. Check it daily. We were of service to our country and our fellow countrymen 50 years ago. We can still be of service, offering comfort to the families of our fellow troopers, but more so by lifting the respect level they had for their loved one and the other members of the Blackhorse Regiment who served so valiantly in Vietnam. Have a great year in 2018 and ….
Smile and make someone happy.
Chaplain Blandin (Bill) Karabinos
HHT, 2/11 ACR (71-72)
Dedicated To A Friend
Many, many years ago, I found myself in a land I didn't know.
Sent by people who didn't care about me, to fight for others' liberty.
A land so strange and far away, I'll remember it till my dying day.
While Viet Nam is it's given name, we veterans all refer to it the same.
The "Nam" became the call, for this land where so many would stand and fall.
To risk our limbs and lives as well, we spent our time in that damn Hell.
I tried hard and did my best, like all the others put to the test.
Some walked, some rode and others flew, doing jobs nobody wanted to do.
We laughed, we cried, we were scared as well, in the "Nam" our personal Hell.
Many years have come and gone, but insideof me the "Nam" lives on.
Memories of the pain and the death, are still able to take away my breath.
My buddies lying on the ground and the sight of their blood all around.
Young bodies broken, torn and smashed, dying in the tall elephant grass.
12,000 miles from his home, he cried for his mother but died alone.
W loaded his body in a bag, and placed it on a "chopper" for his last ride.
Silently watching as the "chopper" flew away, I wanted to cry but couldn't that day.
For in the jungle the battle raged on, and I had to go and kill the Viet Cong.
Back home his Mom and dad did cry, and asked each other Why? Oh. Why?
The Honor Guard stood by the flag, that draped the casket with his body inside.
The firing squad's volley then did fly, one last tribute to he who has died.
Sadly thet listened to the sound of Taps, but nothing they could do could bring him back.
They opened the ground and laid him within, he was now back home with his family again.
Their tears flowed caused by their grief, but we are unable to bring them any relief.
Another day, another death, another young soldier laid to rest!
As a young soldier standing strong, I mistakenly believed that crying was wrong.
I held my pain deep within, awaiting the day it will rise again.
While my buddy is now dead and gone, my thoughts and love for him lives on.
My buddy and I are never apart, I carry him always deep in my heart.
He's found his Peace and for that I'm glad, for he's my buddy, the best I ever had.
The time will come, I just don't know when, but I too will find Peace …
… and be with my buddy again.
June 18, 1998
Sergeant James Angelini
11th Armored Cavalry Regiment, 101st Airborne Division
Repulblic of Vietnam
March 4 1970- July 1971