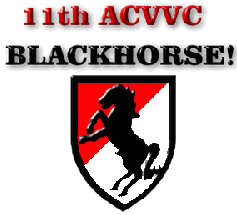 Chaplain's Corner
Chaplain Bill Karabinos
HHT 2/11 71-72
4th Qtr 2020
Halfway Down the Trail to Hell
Driving northeast from Indianapolis I couldn't help myself. I was morose; saddened that the 35th Annual Reunion had been so sparsely attended. No one's fault. Just another sink hole in a sunken road. Another negative in a year we would all like to cancel.
When I flew back from Vegas in August, 2019, I celebrated with my fellow trooper, Wayne Glass, one exceptional reunion. It was inspiring and uplifting. We had over 1100 attendees. We had been welcomed and feted by the active-duty Regiment at Fort Irwin; we back-slapped old friends and fellow veterans we hadn't seen in a year or maybe even 48 to 50 years. We wanted to keep on; to run and jump and go play. Chills ran down the back of our necks and straightened our spine when the Colonel of the Regiment, Scott Woodward, stood before us at the parade field in the Mojave Desert and introduced himself as one of us. "I am Scott Woodward, and I am a Blackhorse Trooper."
Not so this year. We had less than 150 in Indianapolis, and we did not have any active duty troopers as our guest or even a Color Guard. No one's fault. The pandemic year. The year of the minus sign, a negative. I couldn't let it go. All I could hum as I drove toward Michigan was "half way down the trail to hell in a shady meadow green." Why so glum?
I watched as endless corn fields, acres of lush green soybeans, piles of straw bales and even a few acres of bright yellow and gold sunflowers rushed by. What a nation of abundance. The sky was Carolina blue, the clouds were Clorox white, the highway was straight and smooth, and my car was swift and cool. Why so glum?
Please God, let this virus run its course, let it pass away. Bring back the cheer, the smiles, the laughter, the electricity that we feel when we can hug a friend, the spark in our eyes when we shake a hand, the lilt to the laughter we share setting knee to knee.
I seldom play the radio as I drive, I love the solitude. Once in a while classic music, or at Christmas time: Crosby, Como, Sinatra or Louie Armstrong. But on the long road back I turned it on and played with the dial until I came across a familiar song. Nelson Eddy was singing Stout Hearted Men.
Who you ask? Nelson Eddy was an American singer and actor who appeared in about 20 musical films in the1930s and 1940s, often with Jeanette MacDonald. Most of those musicals celebrated the America spirit, patriotism, self-reliance, high degree of morality, respect for one another and self-sacrifice to make this country a better place. And his song, Stout Hearted Men - "who will fight for the right they adore "- was the perfect closing number.
That Sunday afternoon I had just left behind some stout-hearted men, who once stood "shoulder to shoulder and bolder and bolder" as they turned to face the enemy in Vietnam. That song made me smile, forget my glumness, and realize that I will stand by those men again on Veterans Day in Washington, at the Tomb of the Unknowns, and again laugh with them at the Dallas Reunion next August. Nelson Eddy sang "start me with ten who are stout-hearted men … and I'll soon give you ten thousand more." We had 25,000 men like you in Vietnam from 1966 through March of 1972 and that string started with the "Boat People" in 1966. What a legacy.
In Don Snedeker's excellent and easily readable book, General Frederick Franks speaks of his time with our regiment with unabashed pride:
"…there was not a day in Desert Storm commanding VII Corps that I did
not remember Vietnam and Blackhorse. It was a powerful force. I remember those lessons of combat for sure. Many I learned right there
in Second Squadron. But I remember more than that. I remember the names and the faces. I remember the sacrifice and the pain. I remember a generation who went, and did what the country asked. Who did their duty and did it with skill and courage, and at such sacrifice?"
He goes on to praise the men who got no thanks when they came home to tell of how proud he was to wear the Blackhorse patch on his right shoulder as they moved across the arid desert and how it was also on the right shoulder of his VII Corps chief of staff, on the shoulders of three of his brigade commanders, and countless platoon sergeants and sergeants major.
What a tribute, but so too is Don's book, TheBlackhorse in Vietnam. After your Bible, it may be the best book you'll ever read.
The music, the remembrances made me happy. Happy that I had dismounted at "The Bunker" with a few of you lads and your ladies. I was proud too. Proud that some of us were still able to gather. Proud of Mike Cricco and Terry Stivers, both of whom have attended 35 straight reunions – all of them. Proud that despite all the crisis we endured in 2020, the 11th ACVVC (your donations) was still able to award another $ 143,000.00 in scholarships. Next year we expect to pass the two million mark. You guys never stopped serving when you left Vietnam, or when you left the Army. You carry on and on as patriots, guardians, friends, brothers, daddies and grandpops, you are an incredible bunch. Not just those who attend reunions, but all of you who chip in and send your donations for the calendar and the raffle, who buy bricks, who keep Jerry Beamon busy at the Quartermaster Store.
The Reunion, like our gatherings at Washington on Veterans Day and Memorial Day, like those in Texas or California or Colorado, like standing on the cold marble slab at the Tomb of the Unknowns in a bitter February to celebrate the birthday of the Regiment, have been all happy and proud events in my life. I swell when I'm there, seem to grow taller, even though age has shrunk me three inches since my Army days, and I am so proud to have served with you in the best damn regiment the world has ever seen.
You make me smile, make me sing and make me shout with old warriors like Fred Franks and new dynamic troop leaders like Scott Woodward: I am a Blackhorse Trooper.
Chaplain Bill Karabinos, Vietnam 71-72.