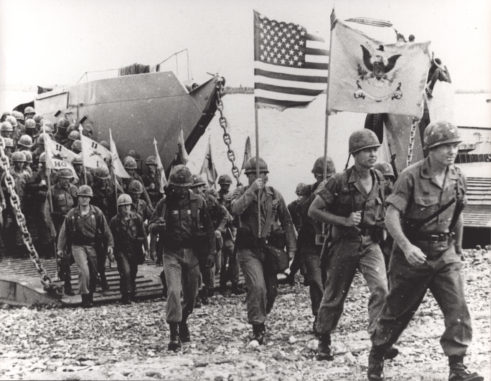 Regimental Commander Colonel William W. Cobb and Sergeant Major Arthur W. Hawthorne hit the beach as the 11th Armored Cavalry Regiment arrives in Vung Tau on September 7, 1966
From The Blackhorse in Vietnam by Don Snedeker
Back in The World, the Beatles' "Yellow Submarine" had risen to number four on the pop music charts. The psychedelic world portrayed in those lyrics was about as far from the reality of being off the coast of Vietnam as one could get. But after an eight-hour trans-continental plane ride and a 21-day trans-Pacific boat ride, that is precisely where 3,000-plus Blackhorse Troopers found themselves. This was it, the Big Time, the Majors. No more training, no more second chances. Mike Company's John Casterman recalls:
The night before we were due to arrive off Vietnam, the Squadron Commander – Lieutenant Colonel Palmer Peterson, a tough little professional soldier that was well respected by his troopers – gathered us all together on deck and said: 'This is serious stuff, so shut up and listen.' We did. He said: 'Look to your left and look to your right. One of the three of you won't be going home.' That's when it struck home that this was serious business.
The USNS Sultan (1/11 and Provisional Squadron) arrived first on the night of 6 September and started off-loading the next morning. The USNS Upshur (2/11) was next, arriving a day later. The boiler- and cyclone-hindered USNS Barrett (3/11) finally limped into its anchorage on 11 September – the same day the Rolling Stones performed on the Ed Sullivan Show.
Black-and-white clips flashed through many Troopers' minds as they boarded the landing craft to get to shore. Would this be like World War Two, an amphibious assault under fire? Private First Class Joe Hogan sums it up. "Then we off-load into an assault craft for the ride to the beach. Just like WWII movies. Weapons, steel pots [helmets], full packs headed towards the beach ‑ all of us wondering what was waiting for us."
Private Al Noetzel went through a whole sceenario in his head.
I'm packed in among 150 other soldiers like canned sardines. It's getting hot as the morning sun starts to beat down … After ten minutes the craft comes to a jolting halt and the ramp comes down, I hear the command, 'Move … Move … Move … This is a beach assault. What are you waiting for?' I jumped into the water which was up to my chest. Then it hits me. What will I do when I arrive on the beach? I know, I'll take out that right flank machine gun that is certain to be there. Step by step my boots dig into the solid, sand bottom … When ankle high in the water I'm able to run. This is it! ... Do or die! ... Wait a minute! Where are all the bombs, machine gun fire and grenade explosions? ... 'Over here … Come
on … We don't have all day,' yelled a fat sergeant. I climbed aboard the first bus …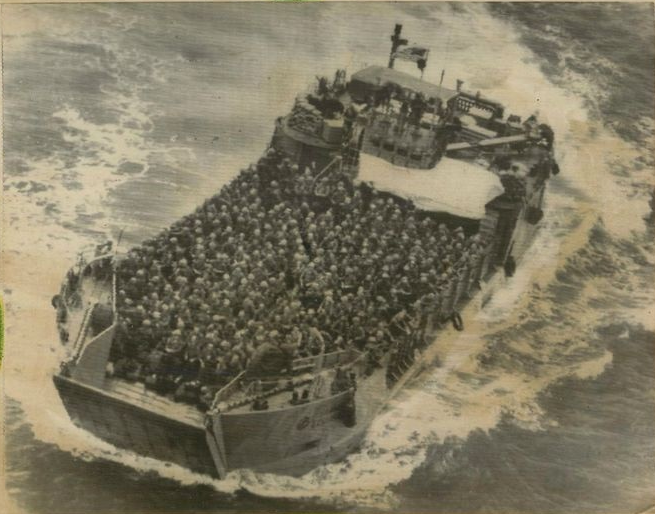 What awaited the Blackhorse Regiment came as a big surprise to most. Instead of machine guns, there were classes of Vietnamese school girls in their white ao dais handing out flower leis. Instead of mortars, there were round-eyed Red Cross Donut Dollies handing out coffee and donuts - and hundreds of dignitaries. Banners welcoming them to Vietnam stretched across the beach. A small black horse stood by placidly to greet the troopers of the Blackhorse Regiment.
This wasn't Normandy or Iwo Jima and their fathers' war anymore; this was Vietnam and their war. And what a peculiar start to a peculiar year in a peculiar war it was.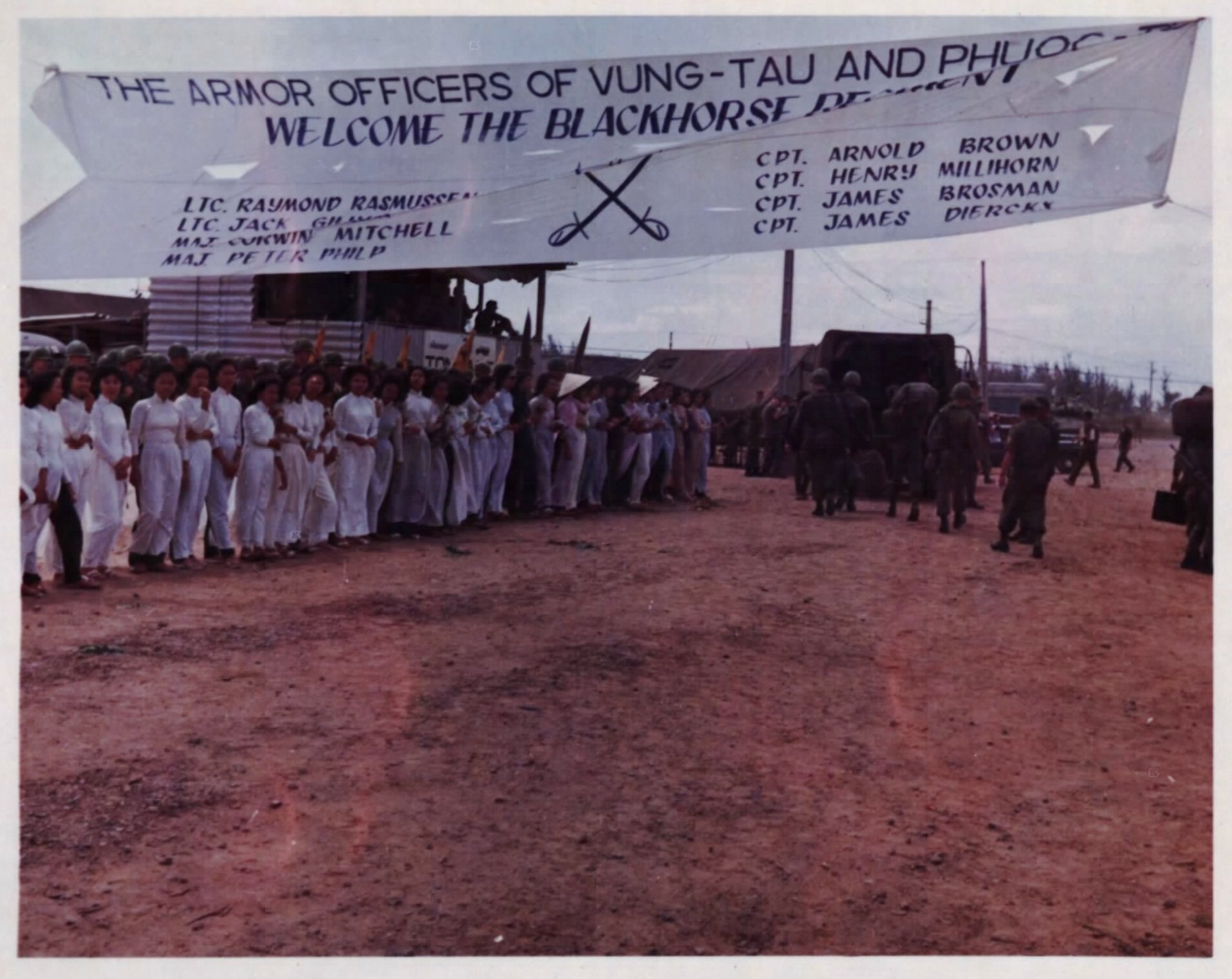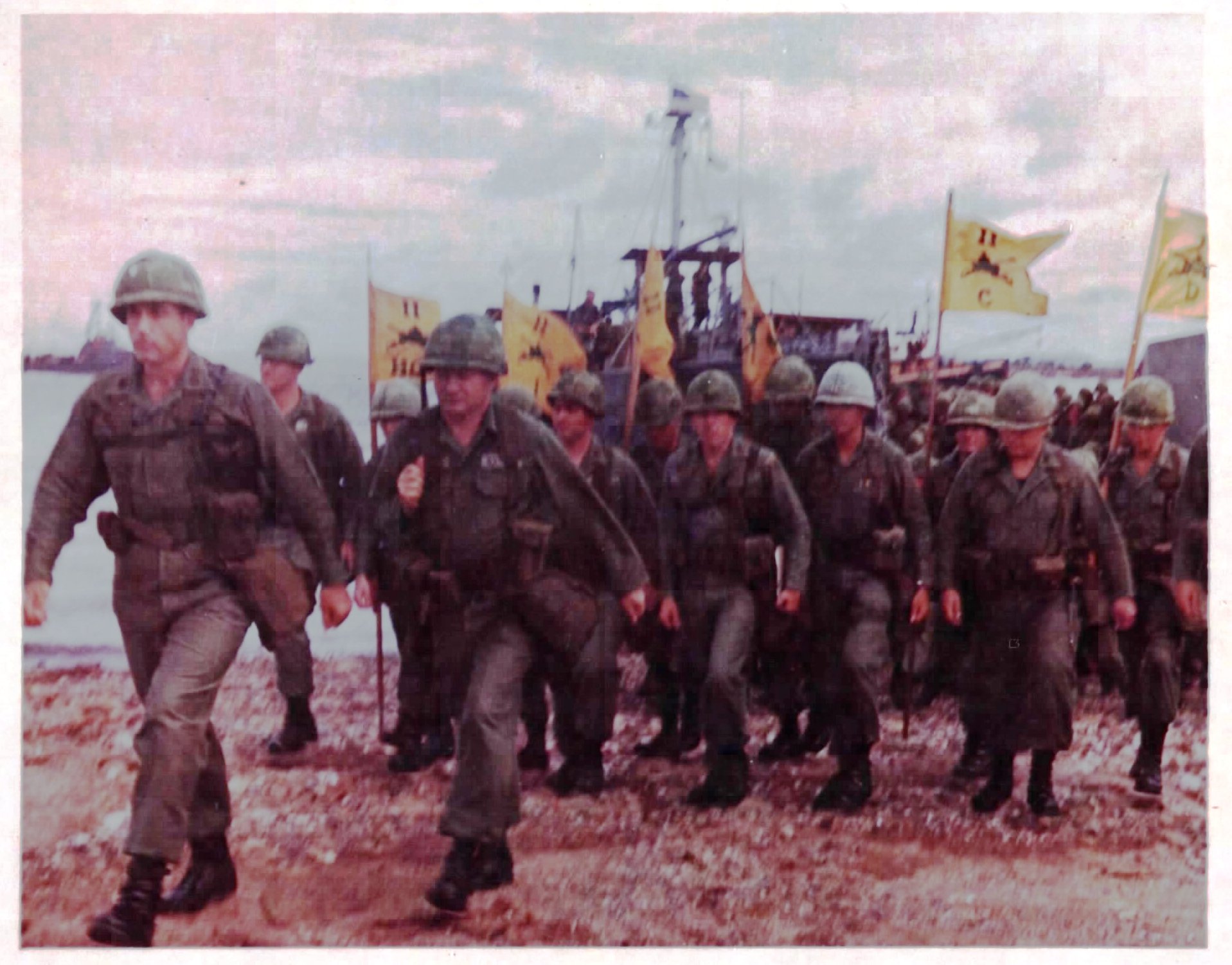 LTC Martin D. Howell and Sergeant Major Malcolm B. Camidge lead the 1st Squadron ashore at Vung Tau on September 7, 1966
As noted in the First Squadron annual historical report: "The 'First of the Blackhorse' led the Regiment ashore at Vung Tau, Republic of South Vietnam on the morning of 7 September 1966. The Regimental Colors which had been secured by the First since embarkation were proudly unfurled and presented to Colonel William W. Cobb, the Regimental Commander." In a scene reminiscent of Douglas MacArthur returning to the Philippines, the 34th Colonel of the Regiment then led the Blackhorse ashore, guidons streaming in the breeze. Although some were still a little green from the long weeks in a tossing troop ship, the pride and determination was obvious in their faces. These were elite Troopers, the first of their kind in Vietnam. These were members of THE Blackhorse Regiment and they were ready to show what they were made of.
"Second Squadron came ashore the next day, while the trouble-plagued Barrett didn't arrive with Third Squadron until two days later. The initial boiler problems delayed the ship's departure from San Francisco and the typhoon en route caused the captain to not only alter his course but also to put into Subic Bay for refueling and repairs. Third Squadron's Troopers landed at Vung Tau on the morning of September 11th, 1966. Back in the World, many teenagers would remember the date, because that evening the Rolling Stones performed on the Ed Sullivan Show. Third Squadron Troopers would remember for a different reason. India Troop's Rick Organ has always remembered that date. "September 11, 1966, the [Third Squadron] 11th Armored Cavalry Regiment lands in Vietnam! From September 11, 1966 thru September 11, 2001, I always remembered the day we landed in Vung Tau, Vietnam. Now, every American remembers 9/11!"