11th Armored Cavalry's Veterans of Vietnam & Cambodia
Recipients of the Legion of Merit
1966-1972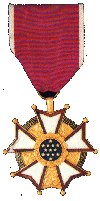 Legion of Merit
a. The Legion of Merit, section 1121, title 10, United States Code (10 USC 1121), was established by Act of Congress 20 July 1942.
b. The Legion of Merit is awarded to any member of the Armed Forces of the United States or a friendly foreign nation who has distinguished himself or herself by exceptionally meritorious conduct in the performance of outstanding services and achievements.
c. Criteria for members of the Armed Forces of the united States army as follows:
(1) The performance must have been such as to merit recognition of key individuals for service rendered in a clearly exceptional manner. Performance of duties normal to the grade, branch, specialty, or assignment, and experience of an individual is not an adequate basis for this award.

(2) For service not related to actual war, the term "key individuals" applies to a narrower range of positions than in time of war and requires evidence of significant achievement. In peacetime, service should be in the nature of a special requirement or of an extremely difficult duty performed in an unprecedented and clearly exceptional manner. However, justification of the award may accrue by virtue of exceptionally meritorious service in a succession of important positions.

(3) Award will be made without reference to degree.
d. Criteria for member of Armed Forces of foreign nations is in AR 672-7(C).
NAME


RANK
UNIT
AWARD
DATE OF ACTION
APPROVAL
AUTHORITY
GENERAL ORDER
APPROVAL DATE
BAHNSEN, JOHN C
MAJ
AIR CAV TRP
LM
SEPT 1968-SEPT 1969
See Notes
BOLAN, ROBERT L.
MSG
HHT, 2/11
LM
9 APR 1970-24 JULY 1970
4515
9/22/1970
CREIGHTON, NEAL
LTC
HHT, 3/11
LM
1967-1968
See Notes
DOZIER, JAMES L
MAJ
HHT REGT
LM
1968-1969
See Notes
FARLEY, ROY W
COL
HHT REGT
LM
8 MAY 1966-5 DEC 1967
See Notes
GERRITY, JOHN L
COL
HHT REGT
LM
22 JUNE 1970-5 DEC 1970
See Notes
GORDER, CHARLES R
COL
HHT REGT
LM
22 MAR 1968-15 JUL 1968
See Notes
HOWELL, MARTIN D
LTC
HHT, 1/11
LM
1966-1967
See Notes
KEELER, EDWARD F
MAJ
HHT REGT
LM
JAN 1966- DEC 1966
USARV
7098
12/29/1966
LEACH, JAMES H
COL
HHT REGT
LM
6 APR 1969-6 DEC 1969
MCENERY, JOHN W
LTC
HHT, 3/11
LM
1968-1969
See Notes
PATTON, GEORGE S
COL
HHT REGT
LM
15 JUL 1968-6 APR 1969
See Notes
STARRY, DONN A
COL
HHT REGT
LM
6 DEC 1969-22 JUN 1970
See Notes
STIGER, RICHARD E *
1SG
L TRP, 3/11
LM
SEP 1964-FEB 1967
USARV
1364
3/27/1967
LOM - Legion Of Merit
OLC - OAK LEAF CLUSTER
* - POSTHUMOUS AWARD
Note: Source: United States Military Academy Register of Graduates
Last Update: September 28, 2019
Compiled By: Allen Hathaway, 11thcav1966@comcast.net