11th Armored Cavalry Regiment Guidon Passing
September 29-30, 2004
Fort Irwin, California
After a five-hour drive back home from Fort Irwin the ice-cold root beer tasted pretty good. I propped my feet up on my desk, took a long drink and looked back at the two previous days spent with the 11th Armored Cavalry Regiment and the eleven other Blackhorse Vietnam veterans at the National Training Center in the Mojave Desert of southern California.
We veterans were there to pass on guidons that we flew with our Troops in Vietnam to the Troops of the current Regiment for them to fly in Iraq when they deploy there next month. We came from Arizona, California, Colorado, Oregon, Texas and Utah. We came by airplanes, cars and motorcycles. We all had one thing in common - we were proud and honored to be the guests of the famous Blackhorse Regiment.
Although most of us arrived at Fort Irwin early on the afternoon of September 29th, the festivities didn't begin until 1630 with a Commander's Call at The Stables. I thought this was some sort of nickname for the NCO Club, but it turned out to be the actual stables of the 11th Cav horse detachment. This was to be a bring-your-own-food-and-drink affair, so I loaded up the old mermite with a case of beer and ice and headed out. I was the first veteran to arrive, but I felt right at home with all of the troopers wearing those subdued Blackhorse patches on the left shoulders of their BDU's. I didn't have any trouble at all striking up conversations. Of course, the beer I handed out might have helped break the ice.
Soon, other Blackhorse Vietnam veterans arrived and the beer and war stories started flowing. Talking with troopers of the Regiment, we could see that they were fired up about heading to Iraq where they could kick ass and take names.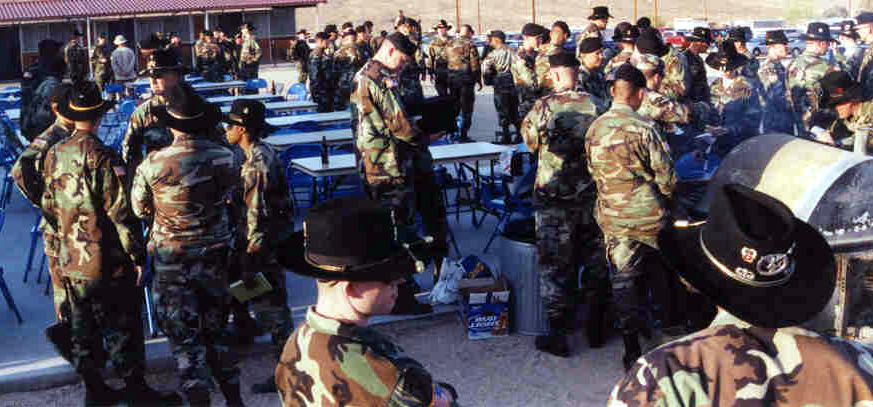 After about an hour Colonel Peter Bayer, the Regimental Commander, grabbed a microphone and gave the officers and senior NCO's a pep talk. He then had us Vietnam veterans come up front and introduced us. He made us feel humble and proud as he spoke about the 11th Cavalry in Vietnam and all of the battle streamers we earned while over there. He also honored the 768 Blackhorse troopers who paid the ultimate sacrifice in Vietnam.
We all then adjourned to the horse arena where the 11th Cav horse detachment put on a magnificent display of Cavalry horsemanship. They conducted several drills that included rescuing a downed trooper, accurate use of the saber and, of course, the good old Cavalry charge. These troopers definitely had it together and received several thunderous rounds of applause.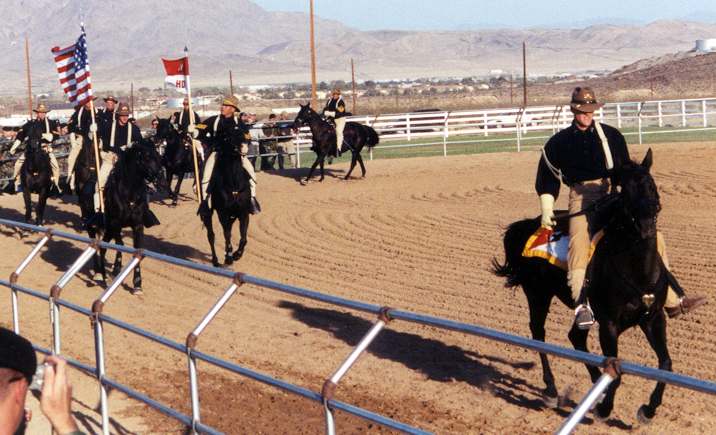 CAVALRY PASS IN REVIEW

The next day was going to start about sunrise, so I called it an evening about 1930 and headed back to my motel room in Barstow.

I arrived the at the Fort Irwin hotel at 0515 the next morning a little bleary-eyed but ready for the day's festivities. Chaplain Haworth sat down with his breakfast bar as I was eating my bowl of cereal in the hotel lobby, and we had a good talk about the bad old days in Vietnam as well as the upcoming guidon passing. More Blackhorse Vietnam veterans showed up, and we all made our way outside about 0630 to catch the first rays of the sun and watch the troopers make their way down the road in front of the hotel on their three-mile Regimental run.

HERE COMES THE BLACK
HORSE
A couple of vans then took us veterans over to the Regimental Headquarters area to await the arrival of the Blackhorse troopers. The old Army tradition of "hurry up and wait" kicked in so it gave us plenty of time to take pictures and tell more war stories.
BRAVO TROOP VETS
Left to Right: Roger Hill (2nd Plt. '66-'67), Ken Wagner (2nd Plt. '69-'70), John T. Tillman ('70-'71) & Ken Jankel (2nd Plt. '66-'67)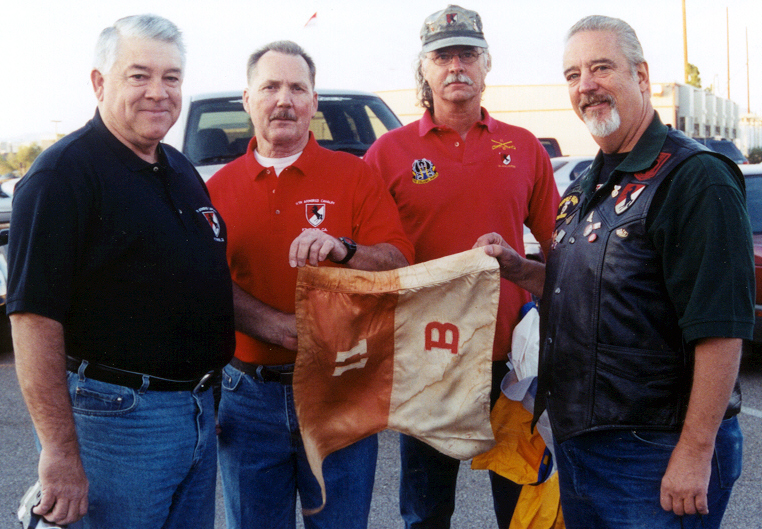 KEN SABO (ECHO TROOP '71-'72) ARRIVED IN STYLE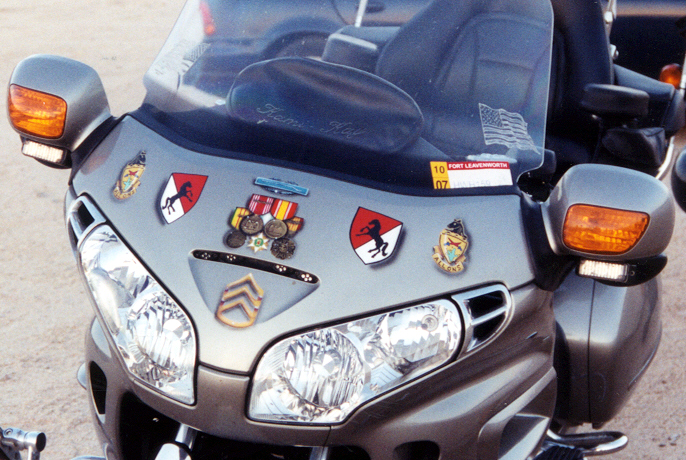 A FUTURE REGIMENTAL COMMANDER?
Fifteen minutes later the Blackhorse troopers arrived, formed up behind the Regimental Headquarters and caught their collective breaths. A public address system had been set up and Colonel Bayer again took the microphone and gave us all an inspired talk about the deployment to Iraq next month. He then again called us Blackhorse Vietnam veterans to stand in front of the Regiment as he honored us for our deeds in Vietnam. Colonel Bayer then asked the troopers of the Regiment to give us a round of applause. Just as I thought the clapping was going to end it increased in intensity and volume along with loud cheering. I stole a glance down the line of veterans and noticed that they were all standing up a lot straighter. Whew - talk about a humbling experience!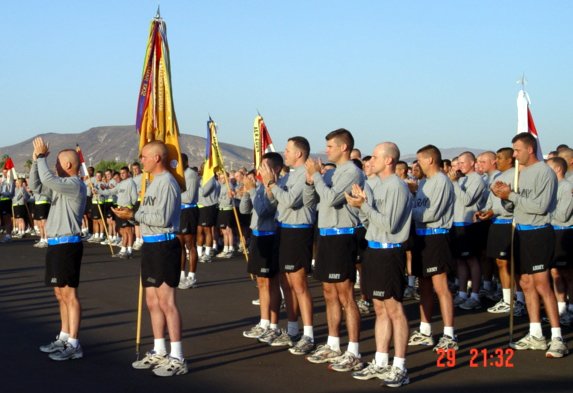 TROOPERS GIVING VETERANS A ROUND OF APPLAUSE
Photo courtesy of Ken Jankel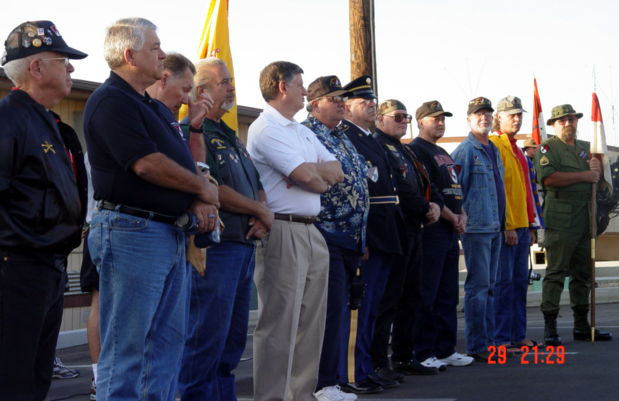 TWELVE HUMBLED BLACKHORSE VIETNAM VETERANS
Left to Right: Chaplain Larry Haworth (HHT 2/11 '70-'71), Roger Hill (Trp B '66-'67), Ken Wagner (Trp B '69-'70), Ken Jankel (Trp B '66-'67), William Bachman (Trp E '71-'72), Wayne LeBail (Trp A '67-'68), Adrian Vaaler (HHT Rgt '69-'70), George Suchorowski (Co. H '69-'70), Arnold Christensen (Air Cav Trp '71-'72), John Reiterman (Trp F '69-'70), John T. Tillman (Trp B '70-'71) & Ken Sabo (Trp E '71-'72)
Photo courtesy of Ken Jankel
After giving each of us veterans a Regimental coin Colonel Bayer dismissed all of the troopers with the exception of Troop B and Troop E who were going to receive guidons from the Vietnam veterans.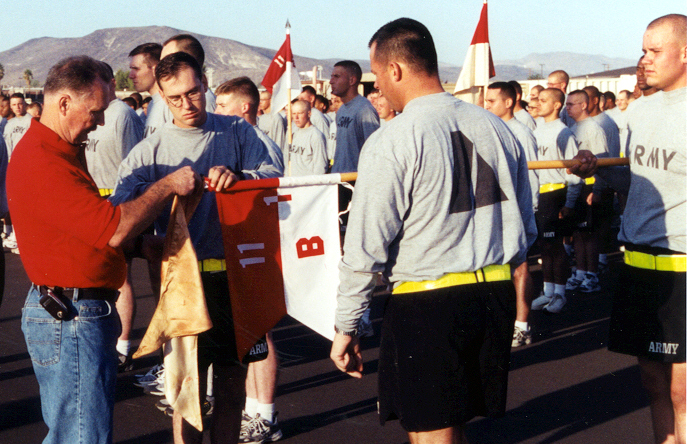 KEN WAGNER HELPS THE BRAVO TROOP COMMANDER REMOVE THE CURRENT GUIDON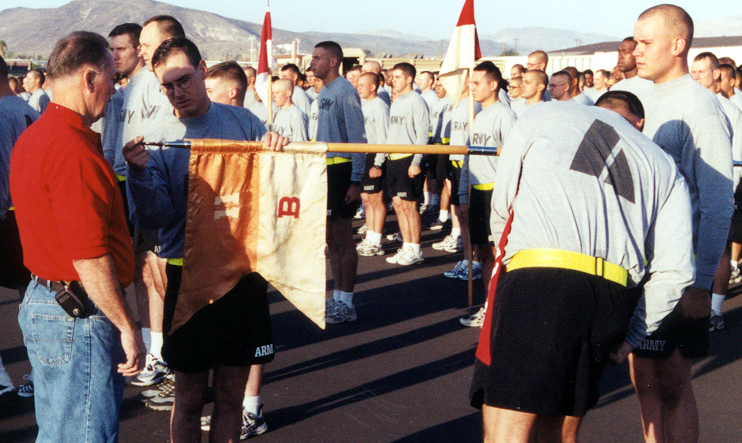 BRAVO TROOP COMMANDER ATTACHES VIETNAM GUIDON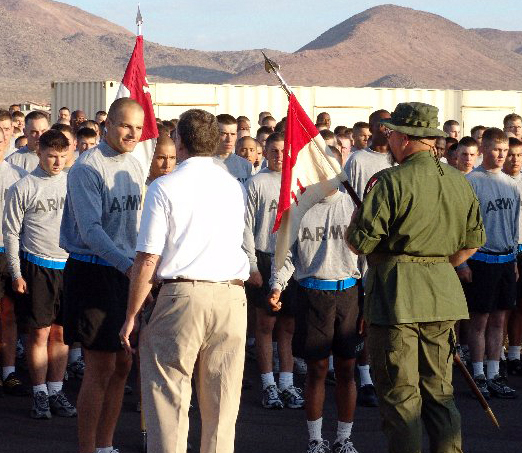 \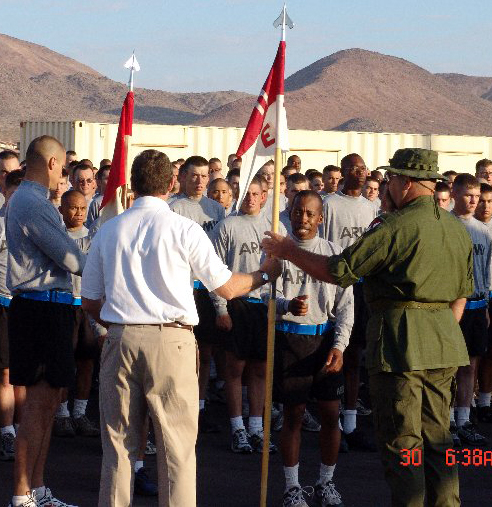 WILLIAM BACHMAN AND KEN SABO TRADE ECHO TROOP'S
VIETNAM GUIDON FOR ECHO TROOP'S CURRENT GUIDON
Photos courtesy of Ken Sabo
We veterans then got to spend time with the current troopers of the Regiment. The 1st Squadron commander presented Ken Wagner with a Squadron trophy case filled with 1st Squadron coins to take the place of the guidon Ken presented to Bravo Troop. Ken told the members of Bravo Troop that the trophy case would be present at the Bravo Troop table at all future 11th ACVVC reunions. The Bravo Troop commander presented us four Bravo Troop Vietnam veterans with troop coins and belt buckles that were inscribed with some profound words - "Lo, I beheld a pale rider on a Blackhorse...and his name was Death. Kill Them All" After reading this inscription Ken Wagner said it for all of us, "Not too politically correct, but DEFINITELY my B Troop!"
After a quick visit to the Blackhorse Museum where I managed to drop $35.00 on 11th Cav items I headed back to Utah for a night of sleep and then back to work.
I would like to thank the officers, NCO's and troopers of the 11th Armored Cavalry Regiment for two outstanding days at Fort Irwin and all the great Cav hospitality they showed us Blackhorse Vietnam veterans. I salute you!
Many thanks also go out to Gene Johnson of the 11th ACVVC for coordinating these activities with the Regiment and getting everything to run smoothly.
Blackhorse,
John T. Tillman
Troop B, 1970 -1971