"Find The Bastards, Then Pile On"
Vietnam Counterambush Along Highway 13 in the Republic of South Vietnam, 1969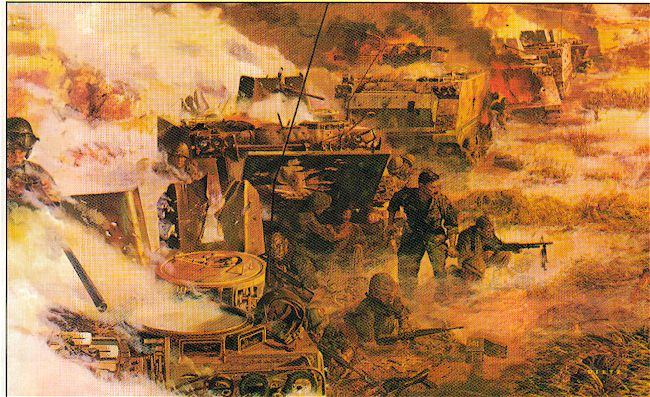 Lieutenant Harold Fritz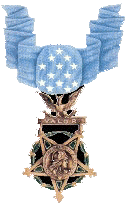 "Commissioned by the 11th Armored Cavalry Regiment (Blackhorse) Association."
The 11th Armored Cavalry Regiment (Blackhorse) served with heroic distinction in Vietnam from 1966 until 1972 adding 11 campaign streamers to its colors. The counterambush action along Highway 13 on 11 January 1969 typified the Regiment's combat engagements. On this date, 2nd platoon, Troop A of the Regiment's First Squadron had a reaction mission to support 1st platoon which was escorting a truck convoy north on Highway 13. During the reaction platoon's movement to an overwatch position to cover the convoy, a North Vietnamese Army (NVA) unit ambushed them from prepared positions along the highway. Unfortunately, the NVA did not reckon with the outstanding fighting abilities of the "Blackhorse" soldiers. Within minutes of the ambush, a platoon of M-48 tanks from H Company joined the fight.
The motto of the 11th Armored Cavalry Regiment to "Find the Bastards, Then Pile On" was made for ambushes and the NVA unit paid a heavy price on this date. Lieutenant Harold Fritz's counterambush action's resulted in his award of the nation's highest decoration for valor, the Medal of Honor. Of the 28 American members of 2nd platoon involved in this action, two were killed and all the others were wounded. Lieutenant Fritz's Medal of Honor citation reads in part as follows:
"Lt. Fritz was leading his 7 vehicle armored platoon along Highway 13 to meet and escort a truck convoy when the column suddenly came under intense cross fire from a reinforced enemy company deployed in ambush positions. In the initial attack, Lt. Fritz's vehicle was hit and he was seriously wounded. Realizing that his platoon was completely surrounded, vastly outnumbered, and in danger of being overrun, Lt. Fritz leaped to the top of his burning vehicle and directed the positioning of his remaining vehicles and men. He then ran from vehicle to vehicle in complete view of the enemy gunners in order to reposition his men, to improve the defenses, to assist the wounded, to distribute ammunition, to direct fire, and to provide encouragement to his men. when a strong enemy force assaulted the position and attempted to overrun the platoon, Lt. Fritz manned a machine gun and through his exemplary action inspired his men to deliver intense and deadly fire which broke the assault and routed the attackers. Moments later, a second enemy force advanced within 2 meters of the position and threatened to overwhelm the defenders. Lt. Fritz, armed only with a pistol and a bayonet, led a small group of his men in a fierce and daring charge which routed the attackers and inflicted heavy casualties."
Lt. Fritz (now Lieutenant Colonel) teamed with artist Jim Dietz to provide a unique picture of this historic Vietnam combat action. This limited edition print portraying the heroic actions of a platoon of Troop A' and a platoon of H Company, 11th Armored Cavalry Regiment is the first of its kind to honor the "Blackhorse's" Vietnam veterans and one of their hero's, LTC Harold A. Fritz.
The AMERICAN PRINT GALLERY
By James Dietz