PALM DESERT – Six days of national mourning for former President Gerald Ford began Friday with military honors and a simple family prayer service at his parish church as members of the public waited for hours for a chance to pay respects before he left California for the last time.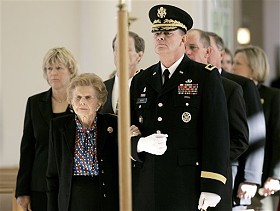 Associated Press
Former First Lady Betty Ford is escorted by Maj. Gen. Guy C. Swan III at the funeral for her husband, former President Gerald R. Ford, Friday in Palm Desert.
Former first lady Betty Ford, 88, and her children watched as uniformed enlisted men from the Army, Navy, Air Force, Coast Guard and Marines carried Ford's flag-draped casked into St. Margaret's Episcopal Church, where the Fords worshipped for 30 years after retiring from Washington.
In solemn and crisply executed ritual, a Marine Corps band played the hymn "O God Our Help in Ages Past" and a sailor honored Ford's Navy service by carrying an ebony staff flying the presidential seal.
"We receive the body of our brother, Gerald, for burial," the Rev. Robert Certain, church rector, said as the casket was carried inside. It was then placed before the blond-wood altar and wreaths of white flowers, and an Army general escorted Mrs. Ford and the family to their seats.
The private family service was followed by a visitation for invited friends including former Secretary of State George Shultz, former New York Congressman Jack Kemp and former California Gov. Pete Wilson. When it ended, Mrs. Ford left in a motorcade headed back to the Ford home in the neighboring city of Rancho Mirage.
Ford was to lie in repose for public viewing of the closed casket until Saturday morning.
About 5:20 p.m., an hour behind schedule, buses began bringing people from a tennis center five miles away. Mourners ranging from children to the elderly walked through quickly and then reboarded their buses, a process taking less than two minutes.
Several men stopped and snapped salutes. One woman wore a red, white and blue scarf.
A modest early turnout at the staging area grew during the evening. No official count was kept, but buses carrying about 50 people per trip came and went steadily.
Earlier, a Boeing 747 from the presidential fleet descended in the distance toward Palm Springs airport as a motorcade brought Ford's casket and family to the church. Local police saluted and residents of the desert resort region watched silently as it passed.
"It's such a historical event, especially to see this in your own town," said Jeanine Lee, 60. "This is really the end of an era. Nixon is gone. Sinatra is gone. Bob Hope. And now Ford."
Among the spectators was Evelyn Tidholm, 80, a visitor from Oklahoma who said she voted for Ford in 1976.
"I just have never seen anything like this. I thought that at my age it's something that I should see," she said.
On Saturday, Mrs. Ford will board the 747 and accompany her husband's body across the nation for two services in Washington, D.C., and his burial in Grand Rapids, Mich., on Jan. 3.
Ford died Tuesday at age 93. He became president when Richard Nixon resigned in 1974 amid the Watergate scandal, but was defeated by Jimmy Carter in the 1976 election. He was a Republican congressman from Michigan when Nixon named him vice president after Spiro Agnew resigned in 1973.
At the staging area for public mourners, a lone man and his son from Irvine were waiting more than 11 hours early.
"I want to be president one day so anything presidential, I'm here" said Aaron Magness, an 18-year-old college freshman at the University of Oklahoma.
He and his father, Jay Magness, got up at 3 a.m. and arrived in the desert at 5 a.m. expecting the kind of turnout that occurred for former President Ronald Reagan's funeral events in 2004.
By midafternoon about 100 people were waiting.
Harvey Soldan, 51, of Riverside wore a Ford-Dole sticker on his shirt from his days as a 1976 campaign worker. He also had expected huge crowds.
"I sat and waited for Nixon, so this time I wanted to beat the crowds," he said.
Joe Hansen, 55, was visiting from Michigan to attend the Rose Bowl and decided to come. He also said he voted for Ford in 1976.
"I'm paying my respect to a fellow Michigan alum and a fellow politician," he said, wearing a Michigan football cap.
Bill Reilly, 52, came from Los Angeles with his two teenage children. He said came because his son Keenan, 14, hadn't heard of Ford until this week.
"I wanted to teach my kids a little bit about the presidency and as soon as I heard what happened and that there was an opportunity to see a former president here, I knew we had to come" he said.
The New York Stock Exchange announced Friday it would join the Nasdaq and close on Tuesday, the day of Ford's state funeral in Washington, D.C. It's a Wall Street tradition that dates back to the 1885 burial of President Grant. The U.S. Postal Service said there would be no mail delivery or retail service at post offices on Tuesday.
On Saturday, after an all-night viewing for the public at St. Margaret's, Ford's body will be flown from Palm Springs Airport to Andrews Air Force Base outside Washington. The coffin will be taken to the Capitol in a funeral procession, then carried up the steps of the East Front of the House by military escort. It will lie in repose in front of the House chamber and be carried into the Rotunda for a ceremony and public viewing before being moved to the National Cathedral on Tuesday for funeral services there.
While in Washington, part of the service will take place under the gaze of a Richard Nixon bust.
A bust of Nixon sits outside the Senate chamber in the Ohio Clock Corridor, where Ford's casket will pause on the way out of the building on Tuesday. The head of the bust is tilted directly at the spot where the casket will lie.
On Friday, Ford's bust joined the scene in the same hallway. At the request of the Ford family, the Capitol curator's office moved his bust from around the corner near Spiro Agnew's to a spot directly to the right of the Senate door, said Deborah Wood, collections manager of the Capitol.
The Nixon and Ford busts will sit virtually across the hall from one another until the end of the state funeral, Wood said.
The Rotunda on Friday was partly dressed for the funeral. At its center, a black bier still covered in plastic awaited Ford's casket. The room's East and West doors were draped in black. And a podium was placed near the bier.