11Th ACVVC Combat Action Reports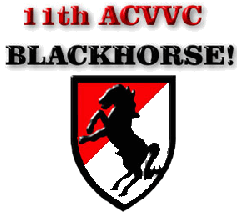 COMBAT ACTION REPORTS Thats's what it was all about, combat with a capital "K". This section is presented so that after all these years you may hear the official version of what happened that day/night. Warning The contents in this area are word for word transcripts from original battle field documents. Contents are graphic and detailed. The reader may wish to consider their personal relationship with those involved in these reports and reconsider whether they really wish to know all the details of the fate of their loved ones.
This area is intended to insure the factual history of the 11th Armored Cavalry Regiment is available for future generations. It also is a tribute to those who served and sacrificed so that others might live in a world of peace.
We will be adding lots more reports soon.